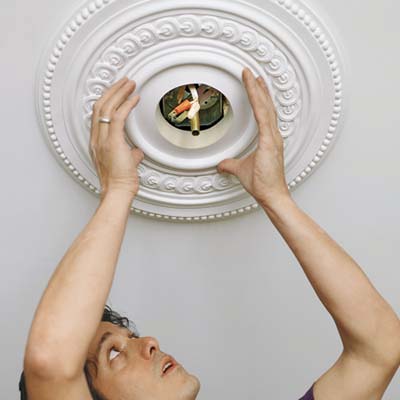 Image c/o This Old House
It's the world I live in people. Ceiling Medallion world. It is a beautiful world, sure. But also a frustrating one. In which, I am swimming in options and sizes (thank god for the internet), but cant find one to match the authentic casual Victorian feel of our house that ALSO has an inner diameter of at least 4 1/2" to save my life. You see, I've collected these three modern globe ceiling fixtures to replace the ugly outdoor-looking ones that were installed in our house when it was flipped. And the canopies need at least 4 1/2" in the center to fit them into the ceiling medallion (which, This Old House recommends, should have an outer diameter of at least 18" to fit the scale of rooms over 140 sq ft with up to 10' ceilings). All I can find are inner diameters of 3 5/8" or there arent dimensions listed (internet fail). GUH.
I wish I could just blink my eyes and 6 perfect matching ceiling medallions would appear on my doorstep, instead of sifting through the internet for the thousandth time (my head hurts!)
Image from Architectural Depot
Okay... vent over. Other things sitting on my to do list that I am itching to get done asap?
+ Paint the guest room
+ Hang the 2013 calendar that Alex got me for Christmas!
+ Cut boards for missing shelves in several of our closets, paint boards, install
+ Buy a small touch up can of white for the trim, touch up scuffs and chips!
+ Cut wood for small upstairs bathroom shelf, paint, install
+
Take down all Christmas decorations and re-arrange living/dining room